Although the bathroom is certainly a space we use every day, and it's one of the few rooms in our homes that's used frequently by every member of our family along with guests and visitors, it can end up being the smallest space in our home. Our toilet, tub and sink are often squeezed into as little are as possible and yet we expect it to deliver big when it comes to storage. Our bathrooms can hold all of our beauty products, our lotions and creams, kid's tub toys, toilet paper, towels, spa products, and even our cleaning solutions. So how do you get the most out of this often tiny space?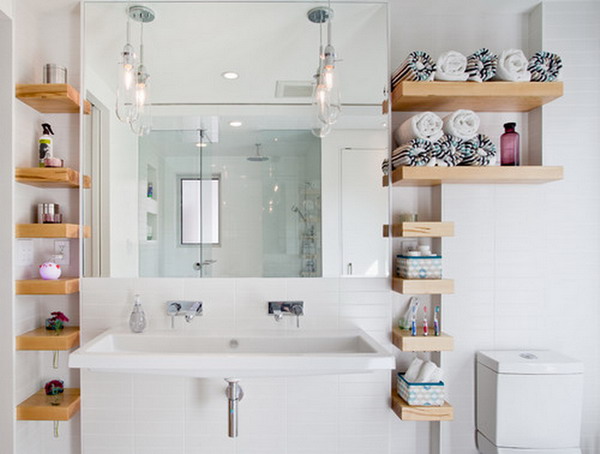 source
One great way to solve the limited space in your bathroom is to think vertically. Instead of trying to cram in yet another cabinet to hold all of the products we use, think about how to store things on the walls. Baskets turned on their sides can hold toilet paper or rolled towels and face cloths. Shelves can hold bins of grooming tools and also store decor that would otherwise clutter up the counter space. If you're a lover of all things bath related, find some small matching containers and put them up on a shelf with your salts, bath bombs and bubbles lined neatly in a row. Less often used products could be stored on a shelf right over the door. On the back of your door, install hooks for hanging bath robes or towels after a shower or even hang a wrack to hold supplies. You can also install a shelf or some type of wall organizer near your sink so that you can easily access grooming or styling tools without having to use up valuable vanity countertop or cupboard space.

source
Maximize the ability of your vanity to pack in products by using a set of plastic bins or lined baskets. You could also look into increasing shelves by using metal wrack inserts, or by using hanging organizers on the backs of the cupboard doors. If you have access to the sides of your vanity, you can hang hooks there to accommodate face cloths or even your make up bags.

source
One way to decrease wasted space in your shower and on your vanity is to make sure that you don't have a lot of half empty bottles sitting around. Drain one almost empty shampoo or conditioner bottle into a fuller one and recycle the old ones. You can do the same thing with your lotions and creams. Go through old product and ditch anything that you don't use or that has expired. Take stock of what you've got before you go shopping so that you're not carting home extras that you really don't need and simply don't have the space for.

source
Colour scheme won't increase the actual square footage of your room, but it can certainly give the impression of more space. Use pale or brighter colours and stray from anything dark that can lead the bathroom to feel smaller and more cave-like. Even keeping the white on your ceiling in good condition can make your room seem bigger. Keep one colour throughout and use accessories that compliment your walls to bring a nice even flow. Your floor can have the same effect if you use floor tiles or lino that incorporate larger, even shapes and aren't busy.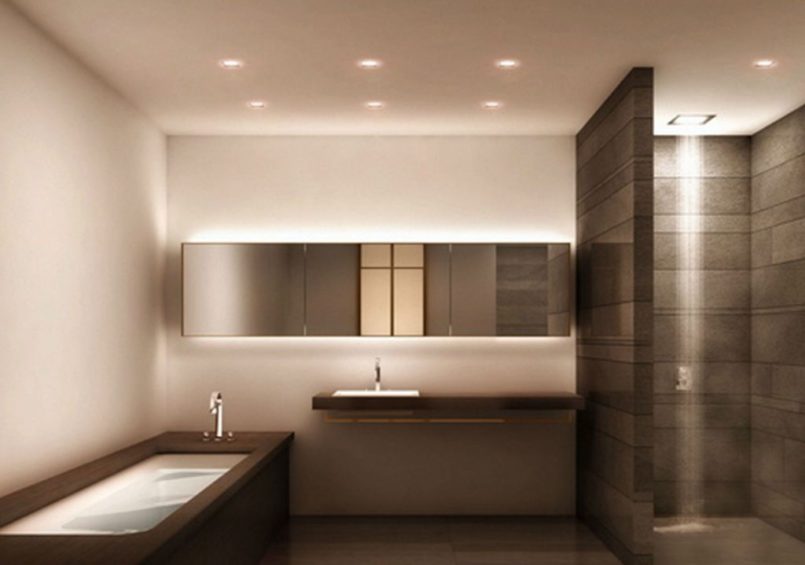 source
Lighting can go a long way towards maximizing your space as well. The better your lighting is the more area in your bathroom is useable. Dark corners aren't of any use to you or to guests especially when it comes to grooming. Have good, bright lights installed where they matter the most and ensure that you replace bulbs as soon as they burn out.

source
You wouldn't normally think of your door as a way to maximize space in a room, but if your door swings in, think of how little space you've lost having to accommodate it. You can change this and have your door swing outward, or even have a pocket door installed if your walls allow for it. A pocket door slides right into the walls and doesn't need the space in or out of the room to accommodate it.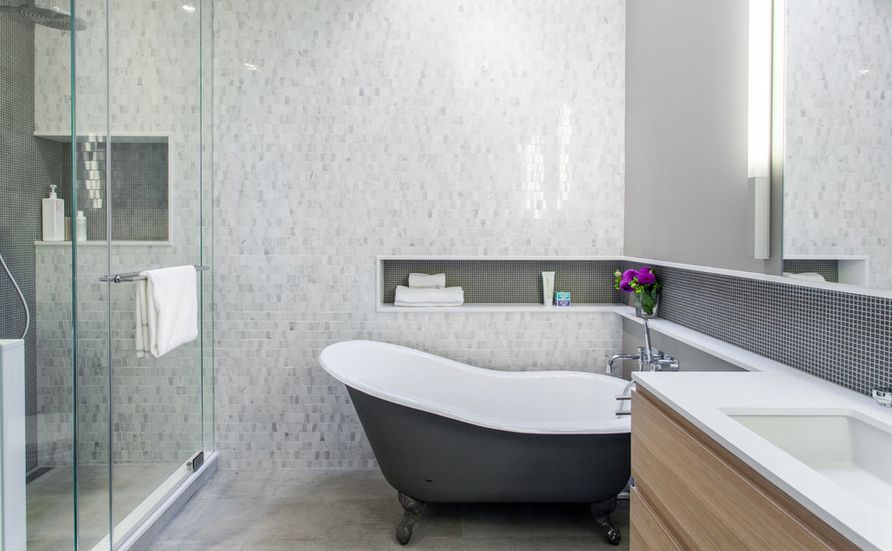 source
Recessed niches in your walls can make use of valuable and otherwise wasted space. They can also be pretty decorative features and make your bathroom unique and memorable. Recessed niches are a great space to tucked rolled hand towels or some of your grooming products. Use matching glass jars or small baskets to hold Q-tips, tweezers, nail clippers, shavers with accessories or a number of other little products that are often found in your bathroom.
This article was written by Jon Reyes from Steam and Shower UK. He has over 10 years' experience in writing health related topics and specializes in the health benefits of saunas and hydrotherapy.